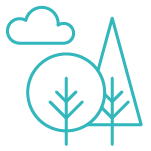 01
Protect the environment
The climate is important to us. You too? Then drive a flo! Our flos are electric cars, »tank«, with green electricity and therefore do not produce harmful emissions when driving. With floMOBIL, the air stays clean. Electric cars do not emit CO2, fine dust particulates or other unhealthy, hazardous substances. Most charging stations have clean, green electricity, which provides the best environmental balance. This allows you to be on the road sustainably and contribute to the conservation of nature.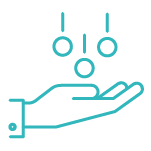 02
Save money
You drive a flo without having to buy a vehicle or pay for repairs. The motto of carsharing is »use instead of own«. This doesn't only pay off for infrequent drivers!
Use the floMOBIL cost calculator to find out how much cheaper floMOBIL is compared to a private car. The different models in the floMOBIL fleet allow you to adapt your vehicle choice to your immediate needs. This saves you the cost of taking a large car when all you really need is a Weezl.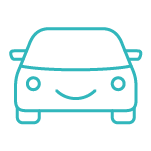 03
Simply be mobile
You book a flo with the app, get in, and drive off. Time-consuming, nerve-wracking appointments for repairs, tyre changes or other services are gone.
Having your own car promises freedom. But in reality, it often takes a lot of time and attention to maintain it. With floMOBIL, all that is taken care of – allowing you to focus on your (driving) goals.
FAQs
You may find the answer to your question here. If you have another question, please send us an email to info@flomobil.com. In the event of a pressing problem, the best thing to do is to contact our hotline which is available to you around the clock at +43 50 63 00 50.
Please check the vehicle for defects, scratches and evidence of an accident before you start your journey and immediately report them to the floMOBIL hotline at +43 50 63 00 50, so that you are not held responsible for them. You can find more information about the vehicle in the respective instructions.
Yes, you can rent floMOBIL e-cars at all floMOBIL locations! Best of all: apart from local promotions, the same rates apply at every floMOBIL location.
Please note that new floMOBIL locations that are still in the introductory phase are an exception. You can recognize this by the fact that you cannot book the flos of these locations even after logging in.
You can easily book your flo with your smartphone or via the Website : Enter your preferred floMOBIL station, the day and time, and the planned route length. The system will then automatically check whether an e-vehicle is available at the selected station. If a flo is available, you can complete your booking. If all flos are already assigned at the time in question, you can also book an electric vehicle at other floMOBIL stations.
If you don't have internet access at the time of booking, call +43 50 63 00 50 and ask for your flo.
The range depends on the type of vehicle, the driving style, its load and many other factors – just like with a combustion engine. In contrast to diesel or petrol cars, city trips with e-vehicles consume less energy than trips on motorways or rural roads.
Experience shows that the average route in Tyrol is nine kilometres. Each of our flos can easily manage that. However, if you would like to drive a longer distance, then use your smartphone to access the overview map of the "Energised Community" about further charging possibilities. To use these charging options, we recommend the »be.ENERGISED Community« app, where you can enter credit card information or a PayPal account to pay for these charges.
-> be.ENERGISED Community für iOS
Yes, from 00:00 a.m. to 12:00 a.m. at +43 50 63 00 50.